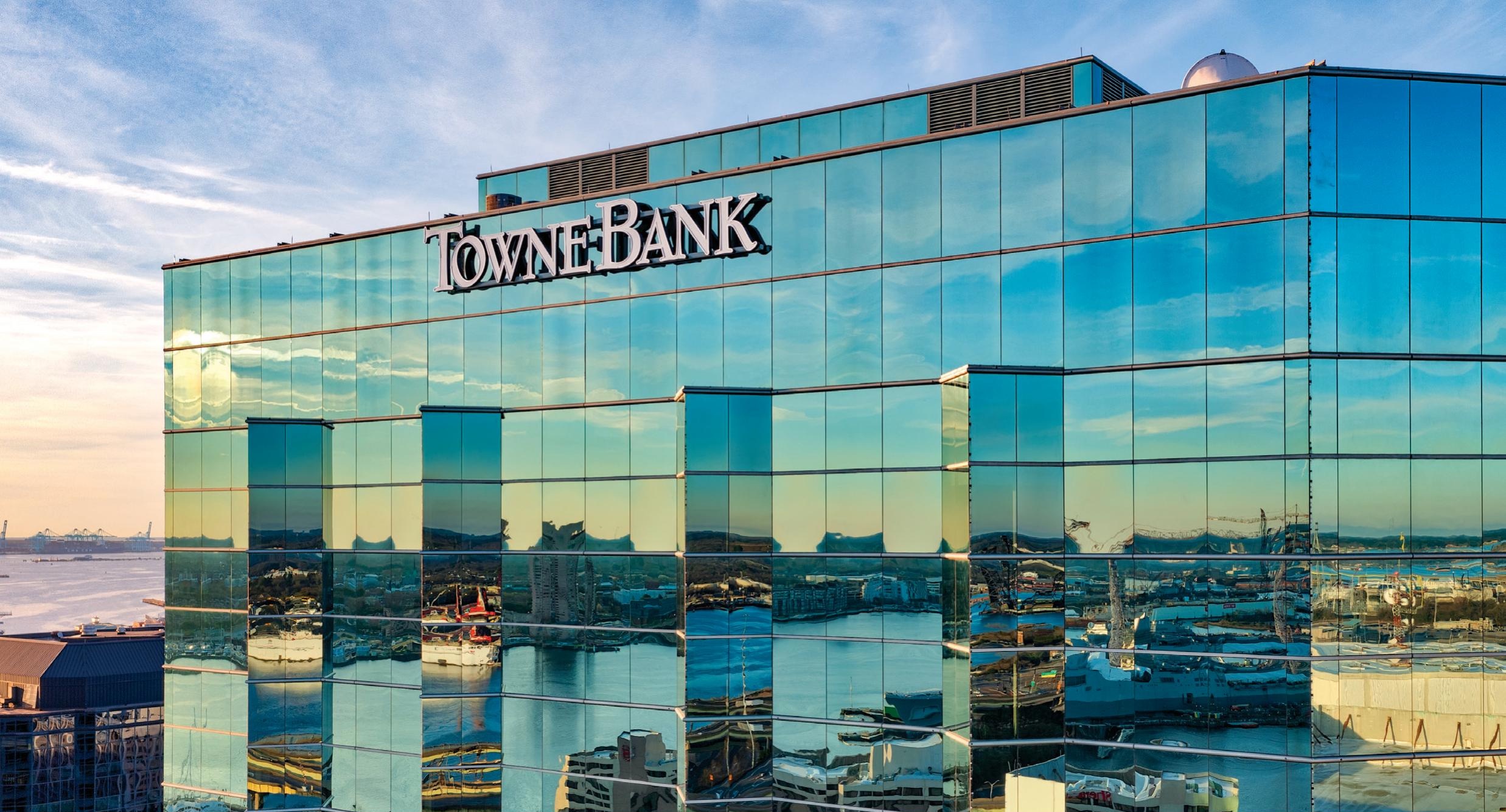 Towne Financial Services Group has relocated!
Their new headquarters at 3 Commercial Place is in the heart of the Norfolk Innovation Corridor (NIC).
Will Morrison is the President and Chief Executive Officer of Towne Financial Services Group, also serving as the secretary of the NIC and a member of the Marketing Committee. As head of Towne Financial Services Group, Will oversees TowneBank's non-banking lines of business, including residential mortgage, insurance, real estate brokerage, wealth management, and vacation property management.
TowneBank characterizes itself as a relationship and friendship-driven community bank whose mission is to serve others and enrich lives. Working with each customer – whom they call "members" – to achieve ultimate success, TowneBank offers a complete array of personal, private, and business banking services. They pride themselves on providing exceptional service and creating long-term relationships within the markets they serve. To complement the banking services, Towne Financial Services Group was established to provide members with specialized guidance and service at other milestones in life or business. Towne Financial Services Group includes TowneBank Mortgage, Towne Insurance, Towne Vacations, Towne Realty, Towne Wealth Management, Towne Benefits, and Towne 1031 Exchange.
Norfolk Innovation Corridor is a vibrant area that attracts many businesses and entrepreneurs for its resiliency. Moving its headquarters to the NIC underscores the company's belief that this area is worth investing in and speaks to its commitment to Downtown Norfolk. Downtown Norfolk is continually expanding, which is beneficial for its economic climate and the businesses that choose to take root there. Downtown Norfolk offers incentives for qualifying technology businesses starting or growing in the NIC. Reach out to find out details.
Downtown Norfolk is not only the center of the Norfolk Innovation Corridor but other organizations such as Eastern Virginia Medical School, Sentara/Children's Hospital of The King's Daughters, Fort Norfolk, the Neon Arts District, and the Harbor Park area.
Norfolk hosts a wide range of possibilities within its revitalization efforts and is a magnet for a talented and diverse workforce.
Towne Financial Services Group relocating to Downtown Norfolk continues to press on in that mission, and we cannot wait to see what will come in 2023.
TowneBank has no control over any other website and is not able to endorse, guarantee or monitor content, availability, viewpoints, products, or services that are offered or expressed on any site other than this one.
NOTICE TO CONSUMERS REGARDING MARYLAND LENDER LICENSEES: TowneBank Mortgage is licensed to engage in business as a Maryland Mortgage Lender and assigned a unique NMLS identifier number: 512138. The NMLS Consumer Access Website. Equal Housing Lender