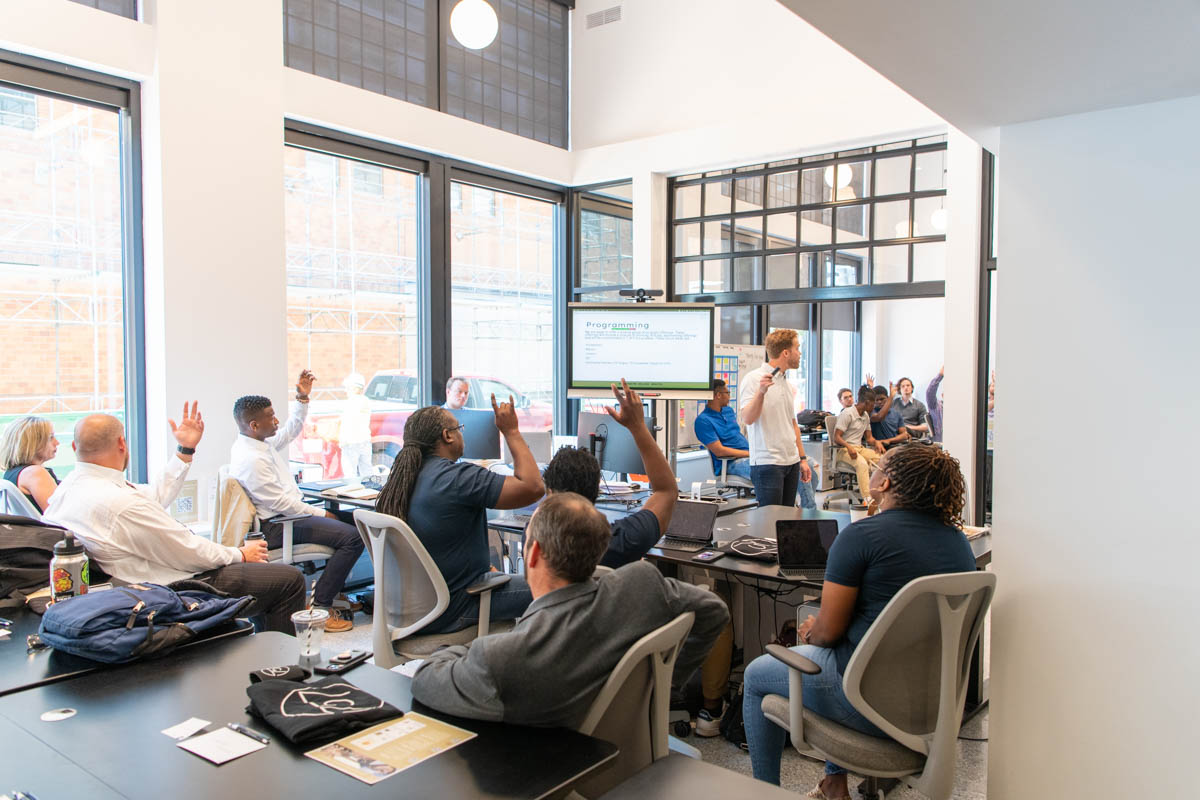 Here at the Norfolk Innovation Corridor, we understand that creating a thriving technology zone is only possible through the help and assistance of our talented and innovative members. Having the leadership of our board and the businesses they have a hand in helps to attract, retain and create lasting opportunities for Norfolk and the growing entrepreneurial community!
Today we want to share an exciting update with our partners at 757 Collab! 757 Collab is an umbrella organization focused on growing an interconnected, inclusive, and impactful entrepreneurial ecosystem. It offers founders needed support services ranging from incubation, acceleration, and capital.
757 Startup Studios is a vibrant, inclusive incubator that provides inspiration, programming, and resources to support startup companies and founders. Startup Studios offers rent-free tenancy to a selected cohort of entrepreneurs in Assembly, deep in the heart of downtown Norfolk, in order to create lasting opportunities for local entrepreneurs.
757 Accelerate is the accelerator arm of Collab. Its mission is to provide entrepreneurs with the customized resources and capital they need to grow. 757 Accelerate provides a network of mentors, investors, and support services.
While the 757 Collab ecosystem is an engine for economic growth, 757 Angels provides the fuel. Its mission is to catalyze the local economy by supporting investment in early-stage companies.
Since its inception in 2015, 757 Angels have contributed over $90 million to local start-up businesses, which has led to much success within the economic landscape of the Norfolk and Hampton Roads communities.  It has become known as one of the top 3 angel groups in the country comprising over 130 accredited investors.
Now in 2023, we are excited to announce that 757 Angels is undergoing a huge and thrilling change! 
757 Angels recently announced it was partnering with VentureSouth, one of the largest angel investment groups in the United States.  As of June 2023, it will become 757 Angels, Powered by VentureSouth. This partnership will provide our local entrepreneurs with wider access to capital and a broader network of investors.
Two of the women who are deeply influential in the success of the 757 community are Monique Adams, Executive Director of 757 Angels, and Evans McMillan, Executive Director of 757 Accelerate. Both of these women have not only extensive experience but also numerous awards for their accomplishments. They are also both NIC board members.
Monique was the 2017 recipient of the Women in Business Award and was a 2019 inductee into the Junior Achievement Hampton Roads Business Hall of Fame. She also is listed on the Inside Business Power list.
Evans was recently recognized by Virginia Business as one of the "Top 100 People to Meet in 2023."
The NIC is honored to count Monique and Evans as board members.  Their efforts and successes at 757 Collab advance our mission of resiliency and innovation.  With their help, we are developing a dense community of entrepreneurs and innovators and cultivating the future of Norfolk together!